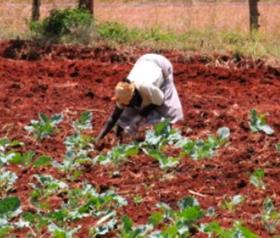 Farmland in Kenya that was previously used to cultivate tobacco is now producing fruit and providing a new source of revenue for over 5,000 farmers. Since the country passed its Tobacco Control Act five years ago, more than 28,000ha of land located mainly in the western part of the country has been converted, with much of it owned by small-scale farmers each managing no more than 1ha.
For those producers involved, tobacco leaves have fallen away to be replaced with products like bananas, strawberries, avocados, pineapples, mangoes and passionfruit that are exported mostly to European Union markets such as the UK, Germany and the Netherlands, as well as countries in East Africa.
"There is lots of great demand of fruits in Europe as well as the East African Community, as compared to tobacco products," comments Wilson Songa, Kenya's agriculture secretary. "Farmers made very little money and sometimes went into big losses when they were cultivating tobacco. Now, farmers are making 13 times more income per acre of fruit cultivation as compared to when they were cultivating tobacco leaf."
According to the World Bank, Europe accounted for the bulk of the €872m earned by Kenya's fruit export sales last year. Avocados made up more than 17 per cent of the country's total export volume at 15,000 tonnes, while the overall volume of fruit shipments to export markets grew by more than 18 per cent. Compare that to the previous situation with tobacco – an industry which apparently cost the Kenyan government almost €800m treating related health problems, while only generating €237.9m in tax revenues – and it's clear why the nation's agricultural focus has shifted.
"The global anti-tobacco movement and awareness campaigns on the dangers of tobacco use are also forcing many farmers to look at other business options," adds Dr William Maina, head of the Department of Non-communicable Disease at the Kenyan Ministry of Public Health.
Antony Wafula, a young fruit farmer based in the west of Kenya, and many others like him are helping the country meet reported strong international demand for fresh fruit. "I am making a lot of money growing avocados on my 5ha farm as compared to what I made growing tobacco," he explains. "I am making about KSh6 `€0.06` per avocado. I was making great losses when I grew tobacco on my farm back in 2008."
The government has played a significant role in helping tobacco farmers restore their land's fertility, removing chemical pollutants. "It cost me a lot of money to also rehabilitate my land, which was polluted by lethal substances associated with the tobacco leaf," Wafula adds. For him, and others like him, fruit promises to be an altogether more healthy business model.
Based in the Kenyan capital Nairobi, Charles has written for news outlets including the Guardian, BBC and Reuters.