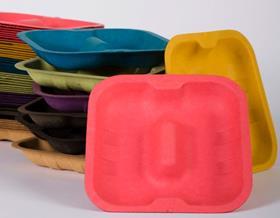 PWP Industries has launched a new series of colourful biodegradable packaging called AgroResin Rainbow as part of the expansion of the manufacturer's AgroResin fibre composite packaging portfolio.

"The variety of vibrant colours opens up exciting new possibilities for the use of the already popular packaging," said Scott Sanders, director of new business development at PWP Industries.

"The intense and undeniably attractive colours of the AgroResin Rainbow series have been specially formulated to accentuate the packaging of food and produce to enhance their marketing appeal."

The Rainbow series, which is available in various shapes, sizes and colours, is water and grease resistant, permeable to air and microwaveable.

"The development of the Rainbow series makes AgroResin a great sustainable, yet cool, choice of packaging for perishable produce, quick-service, frozen and deli food applications," added Dr Yan Xu, founder and managing director of Grenidea, a sustainable material company.

According to the manufacturer, AgroResin Rainbow allows companies to project a hip image will appeal to youth audiences, and with the flexible choice of a spectrum of eye-catching colours, companies can match tones to complement their food presentations.