The pear variety will once again be marketed under the Belgian cooperative's Earth label, as Qtee starts the final year of its transition to organic
Belgian cooperative BelOrta has announced the availability of the new season's first Qtee pears making the transition to organic.
This variety is harvested early, opening the new pear campaign for BelOrta, and is being marketed for the second year under the cooperative's "Earth" label, a project to support fresh fruit and vegetables in transition to organic.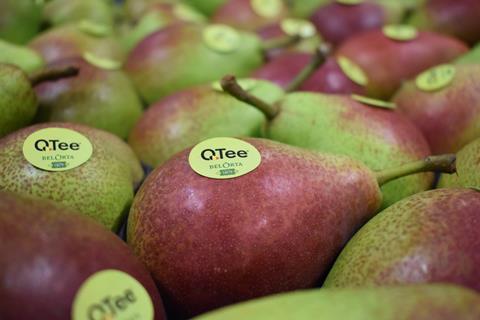 Qtee arrives a few weeks before the start of the Conference pear season and the campaign runs until November, according to the cooperative.
"The red blushed pear with its fresh-sweet taste was planted for the first time in 2015 and is a nice addition to the assortment," BelOrta stated. "This year it is still being marketed under the Earth label for products in transition to organic, but from next year the transition period will be over and these pears will thus be sold as organic."