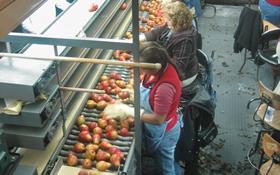 Rainier Fruit has partnered with the Equitable Food Initiative (EFI) to begin training and move toward formally certifying its largest farm ofover 930ha.
The EFI certification programme includes over 300 rigorous standards focused onworker engagement, satisfaction, labour retention and increasedemphasis on food safety.
The leading US fruit producer grows organic and conventional apples, organic cherries and organic blueberries at the farm and once the programme is completed Rainier Fruit will be the first EFI certifiedestablishment in Washington State's fruit industry.
Mark Zirkle, chief executive of Rainier Fruit, said the company had been working with EFI for a number of years but this certification was an opportunity to formalise the relationship.
"We have always been a company focused on our employees and our processes, but we are also a company rooted in a commitment to excellence, and the EFI programme offers a level of shared values andintegrity our customers have come to expect from Rainier,"Zirkle said.
Courtney Lane, human resources manager of Rainier's Zirkle Warehouse Operation, said the training had been versatile and helpful across the whole business.
"This training is very hands-on and tailored to different learning styles, so the team has the opportunity to understandtheir roles as the facilities work toward certification," Lane said.
"This adds more tools in our toolbox to aid in the ongoing collaboration between employees and management."