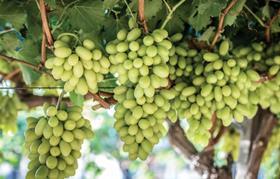 The South African Table Grape Industry (SATI) has reduced the country's table grape forecast to between 61.7m and 67.1m cartons, following rain that hit the Orange River region in week 1.
The Orange River is now expected to pack between 15m and 16m cartons compared to the first estimate of between 18.5m and 19.86m cartons, the organisation outlined, around 3.5m cartons fewer than the original forecast.
After years of excellent weather conditions along the Orange River resulting in shipments of around 20m cartons, present conditions are making it difficult for growers.
According to SATI, growers in the region are proceeding to pack mid- to late-season cultivars, such as Autumn Crisp, Arra 15, Sweet Globe, Scarlotta, Sugar Crisp, Crimson Seedless and Red Globe, while 'exercising great care and focusing on quality'.

The association again emphasised that the geographical diversity of South Africa's five production regions meant that the mid- to late- regions – the Olifants River, Berg River and Hex River regions in the Western Cape – are expected to make up for the volumes lost.
"In these regions the quality is excellent, and the weather forecast for the foreseeable future is equally promising," said SATI.
Growers and exporters are confident that all market commitments will be met with very good quality products.
According to new SATI chairman Anton Viljoen, producers will continue to focus on selecting, preparing and packing the best quality table grapes with great eating quality from South Africa to send to its world markets.
If exports reach 67.1m cartons, it will still be higher than the volume for the past three years.