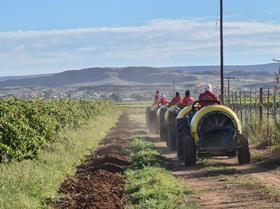 Raisins South Africa has revealed that it is working to provide environmental integrity and social wellbeing for its local communities to ensure future sustainability for the country's dried fruit industry.
The non-profit organisation, which represents over 700 raisin growers, has announced the environmental strategies and socio-economic development projects that are at the forefront of the its objectives.
'South African raisin processors are always looking to reduce their environmental footprint whilst ensuring that the industry positively contributes to the quality of life of farmers and their communities,' the industry body noted.
According to Raisins SA, the industry focuses on the energy efficiency of its farms, water use and waste reduction.
Water usage is constantly monitored, and strict governance is in place to manage water use in the Orange River and Olifants River regions so as not to ruin the plentiful water source for irrigation.
Micro, drip, and flood irrigation are used by raisin growers, but all farms must adhere to water rights limitations.
Energy efficiency is achieved through innovation in farming techniques, such as the elevated nets that are now widely used in South Africa for drying raisins, which helps to avoid mould.

The industry also plays a key role in generating economic activity, creating jobs, earning foreign currency, and stimulating South African rural economies.
The South African raisin industry sustains 30,110 job opportunities, thereby contributing to South Africa's national poverty alleviation goals.

Emphasis within the raisin industry is placed on providing workers with additional support in the workplace.
As well as providing laundry facilities for protective clothing, local food schemes at schools and in communities are funded by raisin packers and growers.

South African raisin experts have engaged directly with local educational institutions to educate and encourage skills development within the local community.
Outreach projects led by Raisins SA, such as leading raisin grading courses and teaching soil preparation techniques to local school pupils, were 'essential for future skills development to drive the local economy'.
Earlier this year, Raisins South Africa hosted a first of its kind raisin tasting event at Upington at the Protea Hotel. The event was attended by 50 raisin producers, packers, and technical advisors.
Raisin samples were tasted, scored, and judged on a digital tasting application platform specially developed for the event.
"This is one of the many projects that the high school's agricultural department, along with Raisins SA, are organising to promote agriculture and agricultural education,' said Ferdie Botha, CEO of Raisins South Africa. It was an enlightening workshop that we hope to do a lot more of in the future."