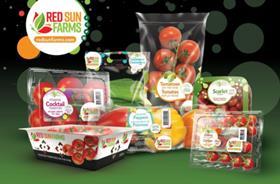 Red Sun Farms is expanding its production in Mexico, Canada and the US in response to increased demand for its greenhouse vegetable offer.
In 2020, company completed 11ha of construction on a three-phase project totalling 26ha in Kingsville, Ontario. It also invested in 7ha of high-tech greenhouse farming, expanding its overall acreage for this location to 17ha, as well as completing a 10ha expansion to its Mexican farm.
"In 2021, we are on track to deliver an additional 14ha for the 2021 winter season. This additional acreage will reaffirm Red Sun Farms as the largest vertically integrated high-tech greenhouse in North America," the company said.
Also in 2021, Red Sun Farms has committed to significant growth in its state-of-the-art distribution centres in Kingsville and Pharr, Texas to support its greenhouse development.
"The Red Sun Farms team continues to build its business on sustainable growth across Mexico, the US and Canada," said Carlos Visconti, CEO for Canada and the US.
"This announcement supports our commitment to deliver the very best produce to our customers throughout the year. We are investing in our facilities to align with our retail partners' demands."
The company recently announced a brand refresh to reflect its growth and innovation. The company said the new logo "incorporates the iconic butterfly while maintaining bright, bold colours that honour the history of the brand, ensuring continuity and consistency".