Vog consortium has high hopes for its new brand following a successful first season in Asia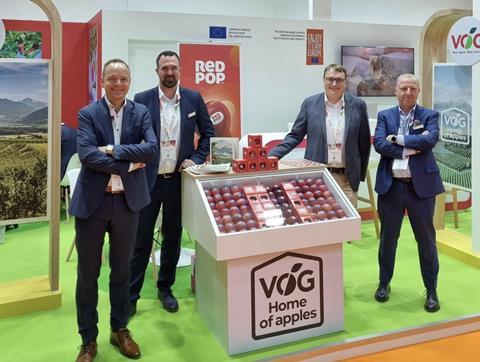 RedPop by Marlene, the new apple brand developed by Italy's Vog Consortium, played a starring role at the Italian Apple Association's stand at last week's Asia Fruit Logistica in Bangkok.
Since its introduction last season the brand, marketed under the slogan "Little big sweetness", has managed to gain a foothold in Asian markets.
"The results after the first year of sales in countries such as Malaysia and Singapore signal excellent prospects for RedPop," said Klaus Hölzl, Vog's sales manager.
"The Italian origin is highly appreciated as an indicator of quality and safety, and the variety is very well suited for the Asian markets.
"Although the season will enter into full swing in January, we have already sent the first batches to Asia and have received enthusiastic feedback from all the operators attending the fair in Bangkok."
Vog's marketing manager Hannes Tauber added: "The countries of the Far East and South-East Asia have a strong appetite for sweet, crunchy and aromatic apples, as well as a need for apples with a high tolerance to transport in terms of quality.
"RedPop perfectly meets these needs, as demonstrated by the excellent sales results. The visual identity and packaging, which communicate our apple's pop character, were also very well received."
Described as a red, crunchy apple with a rich, balanced taste, RedPop is perfectly suited to the needs of Eastern markets, partly thanks to its resistance and storage life, which allow it to arrive fresh even at distant destinations, Vog said, noting that "from a consumer standpoint, its characteristics make it ideal to be taken anywhere and consumed on any occasion, in line with modern lifestyles".
In addition to RedPop, Vog exhibited more than 30 varieties and brands of apples. The trade fair also served as the backdrop for the Asian debut of the consortium's new concept, Home of apples: a home for the best apple experts who can assist business partners in their purchasing decisions, drawing on the values of origin, expertise, sustainability, products and brands.