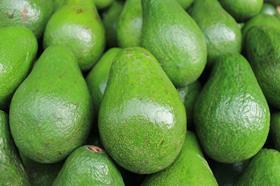 Avocado consumption continues to grow at a 'remarkable' rate across the world, according to the latest report on the global market by IndexBox.
The study showed that revenue generated by the international avocado market came to US$13.5bn in 2018, down 9.3 per cent on the previous year when the market attainted its peak level of US$14.9bn.
Global production of avocados in 2018 came to 6.4m tonnes, rising 6 per cent on the previous year, with a strong expansion for the 2007-2018 period at an average annual rate of 5.3 per cent – conditioned by massive growth in planted area and a modest increase in yields.
Some 2.4m tonnes of avocados were exported worldwide last year, soaring 23 per cent on 2017, with IndexBox indicating that further growth is likely in the short-term. In value terms, exports came to US$5.6bn, down slightly from US$5.8bn in 2017.
By country, Mexico was the leading export nation with shipments of around 1.1m tonnes, or 45 per cent of total worldwide exports, well ahead of Peru (361,000 tonnes), the Netherlands (246,000 tonnes) and Chile (133,000 tonnes).
In terms of value, Mexico is the export leader, bringing in some US2.4bn, followed by the Netherlands at US$734m.
For imports, the US was th leading country in 2018, bringing in 1m tonnes of avocados at a value of US$2.4bn, followed by the Netherlands with imports of 258,000 tonnes worth US$539m.