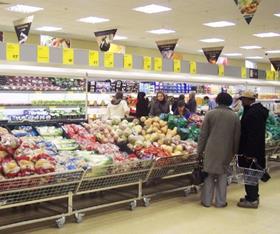 If cross-market expansion and consolidation were the theme of the grocery retail sector in 2007, then the march of the discounters across the continent was arguably the story of 2008.
Schwarz Group's Lidl and Kaufland chain, and to a lesser extent Aldi, have all made significant strides forward in important markers and, given the current global economic crisis, it appears likely that this is a trend that will continue to strengthen during 2009.

The progress made by the Schwarz Group has been particularly impressive. With prices for grocery items rising across much of the EU, European discounters, headed by the German-owned Lidl chain, made "significant headway" in increasing their market share during 2008, according to Planet Retail's Top 20 forecast rankings for the grocery retail sector.

Schwarz Group, says the analyst, is now the third largest retailer in Europe and the company appears well placed to benefit from the current uncertain financial climate.
Planet Retail's forecast for 2008 predicts that the retailer's share of the market will hit 4.1 per cent, with food sales up to over €45.6m compared with €34m a year before.

Although Aldi is forecast to slip slightly in the top rankings – down from seventh place to eighth place – the German discounter has still managed to record significant gains in several important markets.

One of Aldi's most striking achievements in 2008 was its progress in the UK, where the retailer's sales between April and June increased by 21 per cent compared with the same period a year before.

In an interview with The Guardian newspaper, Aldi UK managing director Paul Foley revealed that the discounter was expanding faster than any other grocery retailer in the country. The group now has close to a 3 per cent share of the UK grocery market.
Aldi and Lidl have made similar progress in Ireland where they are expected to hold a 15 per cent share of the market by the end of this year.
Challenging times
Despite retaining its position at the head of the retail rankings, Matthias Queck of Planet Retail said that Carrefour is struggling in its core western European markets, arguing that its main concept of the hypermarket has been losing favour with consumers.
Significantly, he said this has been particularly the case in Carrefour's key markets of France, Italy and Belgium. "The main problem is that in the continental markets, hypermarkets have been having problems attracting new customers," noted Mr Queck.
Higher petrol prices across Europe also appear to have had an affect on hypermarkets, he continued, especially given the distances that people often have to travel to reach outlets.
The analyst also believes that Carrefour and other hypermarket operators are losing market share as a result of changing demographics – an ageing society across Europe means that Carrefour's main constituent, the family, is becoming less prevalent.
"Carrefour is really losing business and it is facing hard times," claims Mr Queck. "They are thinking about how they can reduce their sales area in stores to make them more profitable."
The turmoil has already led to José Luis Durán being replaced as Carrefour group chief executive by Nestle's Lars Olofsson.
Aside from Carrefour, the three other leading French grocery retailers – Auchan, Leclerc and ITM – are all present in the retail rankings, which is a testament to their strength not just in France but also across Europe.
Entering the top 10 at the expense of Belgium's Ahold Group, Intermarché-owner ITM in particular has benefited from competitive pricing in its core French market, according to Planet Retail's Isabel Cavill.
"Over the past year, France has been a highly competitive market and Carrefour is starting to lose out to ITM and Leclerc who are both doing very well on sales," she said.
As a result, Ms Cavill believed that both Leclerc and ITM will move further up the retail rankings this year, although she did not believe Carrefour's hold of the top spot will be endangered because of its sheer size.
Auchan, which has maintained its position as Europe's fifth largest retailer, has made particular progress during 2008 outside France in markets across Europe and Asia. Alongside Metro, Auchan remains the only foreign company among Russia's top five food retailers and it has also teamed up with the Dubai-based Nakheel group to form HyperCorp LLC, a new venture which aims to develop the Auchan banner across the Gulf region.
But, like other European markets, the rise of the discounters has been considerable in France and Ms Cavill said that this could be aided further if new proposals that would end limits on the opening of large stores are passed in the country.
But, while this could benefit the likes of the Schwarz Group, she believes Carrefour's own Ed discount banner could also gain from the proposed changes.
Discounting threat
To compound Carrefour's worries, UK retailer Tesco is forecast to overtake the French group as the world's second-largest retailer by 2012, behind only Walmart in terms of annual turnover.
According to a report by grocery analyst IGD, Tesco will grow at an annual rate of 11 per cent compared with a predicted yearly 7 per cent growth at Carrefour.
Tesco's turnover is forecast to reach more than €121.8bn by 2012, boosted by global expansion in markets such as China, India and the US.
Closer to home, the UK market leader last year made a high profile attempt to neutralise the perceived threat from the discount chains by advertising itself as the country's "largest discounter" and launching a range of cut-price private label brands.
According to the retailer, the Discount range of products have proved to be extremely popular with customers and resulted in UK like-for-like sales growing by 2 per cent during the third quarter of 2008.
However, it should be pointed out that the result represented Tesco's lowest quarter for growth since 1994.
Although Tesco's move has apparently met with initial success, Mr Queck remained sceptical about its merits. "Launching another private label in their stores might simply result in consumer confusion," he argued.
As Mr Queck pointed out, Aldi and Lidl still have a considerable way to go before they begin to eat into the market share of the UK's so-called 'big four' – Tesco, Sainsbury's, Asda and Morrisons. Moreover, with a 23 per cent share of the UK market, Tesco remains the dominant player in the country.
In spite of the apparent challenge from the discounters, Tesco's sales throughout its European markets increased by 6 per cent during the third quarter, aided by favourable exchange rate movements.
Overall, Tesco has increased its European food sales – which are forecast to reach over €45.6m in 2008 compared with €36.9m in 2007 – and consolidated its position as Europe's second-largest grocer, although its market share is expected to fall slightly to 3.6 per cent from 4.1 per cent.
The good exchange rates helped Tesco to perform particularly well in central and eastern European markets, although Mr Queck said it is not yet clear how consumers in these countries will be affected by the current economic climate.
Although Tesco currently holds a prominent position in central European markets such as Poland, the Czech Republic and Hungary, the analyst believed the Schwarz Group could mount a significant challenge to their market share over the course of 2009.
"In Poland and Hungary, the Schwarz Group is also present and is very price aggressive, so it won't be an easy fight for Tesco in these markets," he said.

Overseas expansion

The fourth highest ranked retailer, the Metro Group, has also been facing problems over the past 12 months as a result of market saturation and consumer reluctance to spend.
According to Mr Queck, the company's core cash-and-carry format is only achieving modest growth in western Europe due to store saturation, resulting in the retailer placing an increasing focus on expansion in eastern Europe, Russia, Asia and the Middle East.
"The more developed the markets are, the lower Metro's growth is," he explained.
Mr Queck claimed that Metro's UK operations in particular have encountered difficulties and speculated that these could be disposed of in the medium term.

Germany's two leading conventional retailers – Rewe and Edeka – both operate on similar models, that of cooperatives supplying independent retailers. But this, argued Mr Queck, is precisely what has hindered their expansion outside the country.

This is particularly the case with Edeka, which despite being Germany's largest grocery retailer has no operations outside its borders, having divested the last of these in 2008. Instead, the group has concentrated on expanding within Germany and to this end recently purchased the majority of Tengelmann's Plus discount network in the country.

But the deal, which would make Edeka the third-largest discounter in Germany, is currently awaiting approval from competition authorities and Mr Queck believed it would require a substantial investment to convert the outlets into Edeka's Netto fascia.

Rewe, by contrast, are in a slightly better position as regards foreign expansion. Through its Austrian subsidiary, Billa, the company has expanded across eastern Europe and recently opened its first cash-and-carry outlet in Russia.

However, if there could be said to be one outright winner over the last 12 months in the European grocery retail sector then the discounters could well lay claim to that title, according to Mr Queck.

"The price aggressive discount concept is a model that does best in economic hard times," he said. "We can expect to see the growth of the Schwarz Group accelerate faster in the future even in markets that have not been discount driven in the past and Carrefour in particular will have more problems."