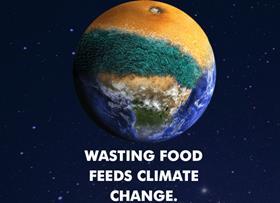 Changes in behaviour during lockdown led to a 43 per cent decline in food waste in the UK, according to the latest UK Food Trends Survey.
However, as the country reopens and life begins to return to normal, household food waste is apparently back to average levels, and the Love Food Hate Waste campaign, delivered by environmental charity Wrap, is issuing an urgent reminder to the public that 'Wasting Food Feeds Climate Change'.
Initially prompted by concerns over food availability and visiting shops, almost four in five adopted an average of 6.7 new food management behaviours, the survey showed, sharply reducing food waste during the first lockdown.
In June 2020, waste levels rose slightly, but by the end of the year they remained 26 per cent lower than in 2019.
'The latest survey shows a spike in reported food waste coinciding with lockdown restrictions easing in June/July,' Wrap stated. 'In July food waste was on par with pre-pandemic levels at 19.7 per cent, with three in ten people once again falling into the category of 'high food waste' - up from 20 per cent in April last year.'
The survey suggests this rise is due to new habits like freezing and meal-planning being lost as time pressures return, as well as an increase in takeaways and eating out, causing food at home to go to waste.
Sarah Clayton, head of citizen behaviour change at Wrap, commented: "One of the few positives of this extraordinary time has been people taking up new habits that prevent food from going to waste. We've seen more people getting creative with their cooking; using up ingredients and leftovers. More of us have taken to checking cupboards and fridges before we shop, using our freezers and even batch cooking. And people tell us they have found these habits extremely helpful.
'But the return of busy lifestyles means we are falling back into our old ways, and that risks these key skills not being used. After the shocking news from the IPCC this month, it is imperative we remember that wasting food feeds climate change and most food waste happens in the home.
"Preventing food waste is one way we can all reduce the impacts our diets have on the environment, and fight climate change as individuals."
Wrap is seeking to galvanise support from retailers, food producers and manufacturers, local authorities and community groups to support Love Food Hate Waste and help make the positive food management behaviours that many adopted during lockdown the new normal.
Michael Matheson, the SNP's cabinet secretary for Net Zero, Energy and Transport, said: 'Cutting food waste is a great way we can all make a difference in the fight against climate change. With the COP26 climate conference coming to Glasgow this year, there's never been a better time to take action. The Scottish Government is committed to cutting food waste by 33 per cent by 2025 – the first target of its kind in Europe – as part of our wider goal of ending our contribution to climate change. To help make that happen, we'd encourage people to maintain the positive habits they developed during the pandemic. By cutting food waste, you can lower the cost of your weekly shop while doing something good for the planet.'
The survey also found that awareness of Love Food Hate Waste messaging has risen in recent years, with one-third now reporting having seen the logo.
The public's belief that food waste is an important national issue remains high at 76 per cent, the survey found. However, this actually represents a decrease, from a high of 89 per cent.