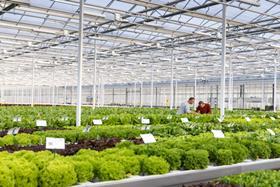 Rijk Zwaan has announced that it generated a net turnover of €498m during its 2020/21 financial year, growth of 4 per cent when compared with the previous year.

The vegetable seed specialist noted that its turnover climbed across almost all its crops and regions.
With a market share of approximately 9 per cent, the company remains number four in the global vegetable seed market.
According to Rijk Zwaan, it pushed ahead with its planned investments in research, breeding and production capacity in 2020/21.
"In the last financial year, we opened a new breeding facility for tomatoes, peppers and aubergines in De Lier and a new location for hydroponic lettuce in Dinteloord,' said Ben Tax, board member and co-owner of Rijk Zwaan. 'We also started making the preparations to expand our seed processing and storage facilities in De Lier."
Over the past year, Rijk Zwaan has also expanded its research and breeding facilities in countries including France, Japan, Spain and Turkey, and has invested in bigger production facilities in Mexico.
The group said it had reinvested €143m, or approximately 30 per cent of its revenue, in research and development last year.
"On average, vegetable breeding takes between six and 16 years,' Tax continued. 'Thanks to technologies such as artificial intelligence, we're able to accelerate the breeding process to provide growers faster access to innovative new vegetable varieties."
Providing the world's population with healthy and sustainably produced food remains a top priority, he outlined.
"As the level of knowledge rises and new technologies are introduced, vegetable production methods are changing. That process is being accelerated by governmental initiatives, such as the European Green Deal and the Farm to Fork Strategy.
'Our role is to breed innovative vegetable varieties that are aligned with new production methods and are also strong against diseases and pests," Tax explained, adding that Rijk Zwaan was also responding to cultivation-related trends such as mechanical harvesting, organic production, the reduced use of chemicals and new methods like hydroponics, as well as consumer trends such as convenience and snacking, by launching numerous new vegetable varieties.
The primary goal for the company is to offer all Rijk Zwaan employees an enjoyable and long-term job, Tax added.
"Thanks to our decentralised decision-making structure and our workforce of 3,600 motivated and dedicated employees, we remained agile in the past year. Together, we are focused on providing top-quality vegetable seeds and top-class service to our partners. That's how we contribute to Rijk Zwaan's mission of 'Sharing a healthy future', and that mission will remain unchanged.'
Over the next five years, Rijk Zwaan expects to create approximately 800 more jobs in the Netherlands and across its subsidiaries.