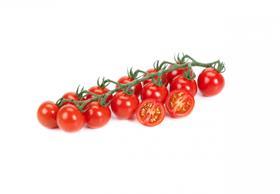 Vegetable seed specialist Rijk Zwaan has launched a new cherry tomato for the premium segment, Reddery RZ, that offers a number of benefits to both growers and consumers.
The Dutch company said that Reddery offered a 'unique taste, crunchy bite and visual appeal' for consumers, while also having advantages for growers including a high yield, strength against splitting, a uniform plant and suitability for harvesting both on the vine and loose.
"We wanted a tasty cherry tomato variety with a good bite,' said Christian Zeiler, managing director at tomato production company Zeiler in Austria. 'We soon decided on Reddery RZ, because it is suitable for loose harvesting and has a nice truss shape. We tried Reddery RZ for the first time in 2019 and we had a successful year with this variety."
According to Jamie Moracci, co-founder and president of Pure Flavor, Reddery RZ stands out from the other cherry tomatoes in the premium segment.
'The major benefit for us as a grower is the consistency in product quality, both in terms of flavour and presentation on the vine," he noted.
Pure Flavor, a leading US grower, has also created a new brand called RedRoyals for the Reddery RZ tomato, with Moracci explaining that the cherry tomato has already become a firm favourite with consumers.
"Consumers quickly fall in love with this variety; one bite and they're hooked,' he said. 'The stylish packaging attracts their attention and then the flavour generates the repeat sale."
Zeiler has developed an own brand for Reddery RZ too: "The name Süße Sophie says it all; this is the sweetest tomato in our segment,' he said.
"The shelf life of Reddery came as a big, pleasant surprise,' Zeiler continued. 'In fact, the fruit shape, the taste and the crunchiness all remain perfect after harvesting."
Pure Flavor has positioned its RedRoyals as cherry tomatoes that are a worthy complement to every eating occasion, from a bite-sized snack or salad ingredient to roasted or grilled and served with your favourite meal.
Reddery RZ will be showcased at Fruit Logistica in Berlin, on 5-7 February.