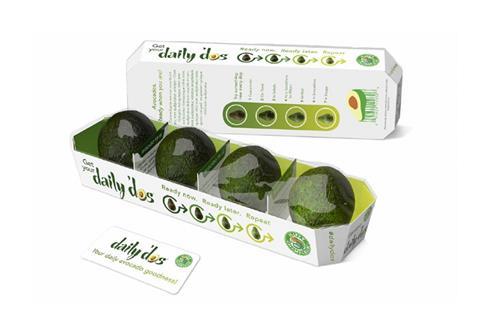 US fresh produce distributor, Robinson Fresh, will trial new packaging lined with a film that absorbs ethylene to delay the ripening process.
The packaging is expected to extend shelf life of the fruit by more than 21 per cent compared to bulk-ripened fruit.
'The Happy Chameleon' avocados will be used as part of the trial, marketed as 'The Daily 'Dos', which will be available in select stores across the Northeast of the US.
The results of the trial will determine whether a wider distribution is feasible.
Robinson Fresh developed the idea after: "identifying barriers to purchase, gathering input from customers, as well as examining shopper and grower insights," according to a press release from the company.
A similar packaging concept, 'Bravocado', was launched by Shangai Supafresh in June 2017. This featured packaging of avocados at different stages of ripeness with the target of increasing avocado consumption in Chinese consumers.