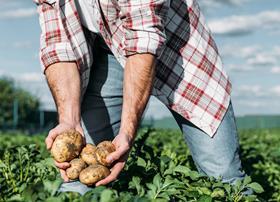 Czech Republic-based online grocery delivery service Rohlik Group has launched an auxiliary programme to help small producers & suppliers (SPSPs) in all countries where it currently operates.
The programme, which seeks to support local suppliers and help small farmers and artisans build a stronger position in the market, is already established in the Czech Republic and today launches in Hungary. The company said the next step would be to extend it to Austria.
Rohlik said SPSP would focus on existing suppliers to enable them to increase production and grow together with the company. The programme will also be available to new suppliers who do not have the ability to market their merchandise and to those who need support with their cash flow.
Tomáš Čupr, founder and CEO of Rohlik, said: "This is a milestone moment for us at the Rohlik Group. We really appreciate the work that farmers do, so we looked for a way to help them make their hard work visible and to sell their produce.
"That's why we decided to share our know-how and support local farmers and artisans in several segments at the same time."
This voluntary programme aims to support farmers in a wide range of activities, including simplifying the legal and administrative burden on farmers, and easing cash flow issues by pay invoices more quickly. It will also provide farmers with free marketing, as well as support packaging and logistics.
Olin Novák, Rohlik's CCO said: "The COVID-19 crisis has brought about issues regarding food, sustainability and the important role of farmers.
"Fruit and vegetable farmers are now rapidly starting to use online channels to find customers for their session harvests, however, for those who have no experience of this process, this represents a major change and challenge. Therefore in this critical year, we're delighted to be able to offer thousands of suppliers access to SPSP."
Rohlik said it would also hep farmers switching to organic production by offering to temporarily purchase their products before they have received fully organic certification.
Rohlik Group specialises in sourcing quality produce directly from farms to customers, allowing consumers to receive products from the field to the dinner table within a few hours compared to days within traditional retail.
"Our mission at Rohlik is a healthier and happier Europe. We want to deliver it via great good and great service pillars," said Čupr.
"A stronger focus on small producers will enable us to increase the share of the freshest food from local farmers and artisans and this will allow us to fulfil our mission."
Founded in 2014 in the Czech Republic, Rohlik Group is Europe's leading online grocery delivery service. Already active in the Czech Republic, Hungary and Austria, the company will soon be launching in the German market, beginning with Munich.