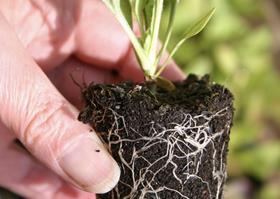 Root Zone Breeding, a live online event on plant breeding, will take place on 19 May.
Participants will have the opportunity to draw inspiration from international experts and network with colleagues from business and academia. For those viewing from their kitchen tables, there's also the opportunity to enjoy a digital lunch.
Malcolm Bennett of the University of Nottingham, UK, will deliver the keynote presentation. Bennett is an authority on (molecular) biology of root development. He will discuss how root phenotyping can help to understand plants better.
The second speaker will be Eric Visser of Radboud University, Netherlands. Visser is an associate professor of experimental plant ecology, specialising in the interplay between root systems and their environment, and the plasticity that enables plant roots to respond to changes in their environment.
In addition to the two presentations, Root Zone Breeding will offer digital network opportunities via an innovative online platform, where spontaneous meetings between researchers and companies can take place.
"The Meetup Root Zone Breeding is all about what happens underground," according to a release from the event's organiser Topsector T&U. "Breeding usually focuses on the crops you see above ground. However, the subterranean parts of the plant are in fact essential for the vital processes of the plant, such as the absorption of nutrients and water and its defence against pathogens in the soil.
"Breeding requires a better understanding of the underground parts of the crop. During this meetup we will update you on the latest developments."