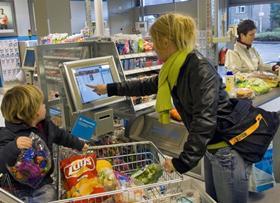 Dutch retail group Ahold has posted positive results for the fourth quarter of 2008, with a €120m increase in profit for the period to €365m, defying the current global economic crisis.
Net sales for the quarter increased 12.9 per cent on the previous year to €6.6bn, with net income up €23m year-on-year to €285m, mainly as a result of rebranding across its US stores and increased market share in the Netherlands.
The strong fourth quarter helped drive the group to full-year operating income of €1.2bn, an increase of 12 per cent on 2007, with net sales up 3.3 per cent to €25.7bn.
'In 2008, we delivered solid performance with particularly strong results in the last quarter, and achieved an underlying retail operating margin of 5 per cent for the full year,' said group CEO John Rishton. 'We achieved our annual targets for each of the the last three years thanks to the hard work and dedication of our employees.'
In the Netherlands, Albert Heijn saw net sales rise 11.6 per cent to €2.2bn for the fourth quarter, largely as a result of the conversion of former Schuitema stores into the format. Full-year net sales jumped 12.9 per cent to €9bn.
Albert/Hypernova outlets in the Czech Republic and Slovakia enjoyed a net sales increase of 3 per cent for the fourth quarter, helping push full-year sales up 13.9 per cent to €1.8bn.
In the US, net sales at Stop & Shop/Giant-Landover increased 2.8 per cent to US$4bn during the fourth quarter, and 2.4 per cent to US$17.1bn for the year. Net sales at Giant-Carlisle hit US$1.1bn for the last quarter, up 7.9 per cent, and jumped to US$4.7bn for the whole of 2008.
'Although the economic environment continues to deteriorate, we believe that the business is well prepared to respond to the effects of recession.' Mr Rishton continued. 'We have a strong balance sheet and we have repositioned our business over recent years to give better value to our customers.'