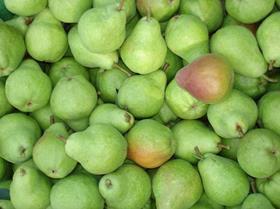 With new-season South African pears in the process of being picked and shipped, the country is looking forward to achieving the same diversification for the category it has for its apples.
While apples have been spread across global markets, with dependency on the UK and Europe being reduced, the success of the pear export operation still hangs on what is happening in the EU.
South Africa already ships substantial volumes to the Far East and South East Asia, as well as to the Middle East. In 2018 shipments to the EU made up 32 per cent of all of the country's pear exports.
At that stage shipments to Asia and the Middle East contributed 38 per cent of all pear exports. Surprisingly, the UK, where sales first took place more than 130 years ago, only accounted for 6 per cent of total sales.
By comparison, only 29 per cent of apples were shipped to Europe and the UK – with Europe having declined steadily in recent years.
Outside Europe, Africa, with 29 per cent, and The East, with a 27 per cent share, already account for 56 per cent of total apples exports.
With this in mind, Nicholas Dicey, chairman of Hortgro, said that it was vitally important for the future of the South African pear business to diversify further.
"We are specifically looking at the East where we are now awaiting access to China," he noted. "This will provide impetus to these efforts and we are now hoping that the signing of the new protocol for exports our pears to China will be done soon."
Dicey said that at the same time the South African pear industry would also be looking at opportunities elsewhere.
The signing of the pear protocol with China has been awaited for a considerable time. The signing ceremony by the South African minister of agriculture and her counterpart in China last year had to be postponed due to Covid-19 travel restrictions. With the present spike in cases it is not certain when the two governments will be able to proceed.
It is clear that entry to China will substantially boost South African pear sales in the region.
The South African industry is expected to finalise its first crop estimate of 2021 this week.
The first William's Bon Chretien pears have already been harvested and are now being packed and shipped. Last year the country exported some 15.253m cartons, which was slightly lower than the previous year's export volume.
Although it is early days, pear growers say climatic conditions have been good and they expect a strong crop.