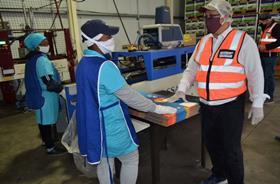 Western Cape premier Alan Winde and Western Cape minister of health Dr Ivan Meyer have visited the Witzenberg region in the Cape fruit growing area, which includes the key fruit growing region of Ceres, one of the current Covid-19 hotspots in the Western Cape.
"The visit to Kalos Farms and the Dutoit fruit packing facility left me with the comfort that the agricultural sector adheres to the Covid-19 health and safety protocols," said Meyer.
In a statement, Meyer confirmed that both businesses had implemented several measures to ensure that social distancing, washing of hands and sanitising facilities were available, while staff and visitors were screened on arrival using thermal scanners to determine their temperature.
"They are further required to complete a basic questionnaire and are provided with Personal Protective Equipment (PPE) before allowed to enter the packaging facilities,' the statement continued. "Kalos Farms owners have prepared an isolation facility on the farm, for workers, who need to go into isolation. This facility helps to lessen the burden on the local hospital."
Amongs the steps taken by the Western Cape Department of Health has been to create an online self-assessment tool.
"I recommend that people conduct a self-assessment,' Meyer outlined. 'The Western Cape Department of Agriculture has also to date distributed 35'000 cloth masks to farmworkers and agribusinesses in Witzenberg."
The Comprehensive Agricultural Support Programme is offering support for farmers which is helping them address the threat of Covid-19.
"In line with the Western Cape Government's belief in data-driven decisions, we have embarked on an economic impact analysis in collaboration with partners such as the Bureau for Food and Policy Research (BFAP),' Meyer added. 'This data will inform post-Covid-19 plans for the agriculture sector in the Western Cape.'