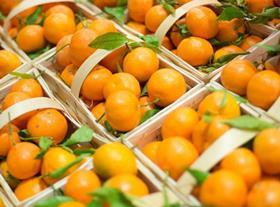 The world is eager to find out exactly which Turkish products will face Russian sanctions following Turkey's downing of a Russian jet on the Syrian border last month, but none more so than those suppliers keen to provide an alternative source, especially for fruit and vegetables.
Egypt has been the first country to step forward and offer its services publicly, with Cairo requesting a list of Turkish imports banned by Russia, according to minister for trade and industry Tarek Qabil.
Other countries named by Russian minister of agriculture Aleksandr Tkachev as possible alternatives included Israel, Azerbaijan, Uzbekistan and Morocco. "Russia won't feel the absence of Turkish products," the minister concluded on Russia Today.
However, the fact that Russia has not introduced a complete and immediate ban on Turkish fresh produce is perhaps a mark of Russia's present dependence on Turkey during the continuing ban on EU and US produce.
Turkey accounted for a significant 20 per cent of Russian fruit and vegetable imports in 2014/15, according to analysis from ITC Comtrade and Fresh Intelligence Consulting.
Russian deputy prime minister Arkady Dvorkovich suggested Moscow might delay introducing restrictions for a number of weeks to ease inflationary pressures in the country.
And doubts surround Egyptian exporters' ability to direct greater volumes toward Russia, not least during the ban on flights between the countries, which precludes the sending of highly perishable items like strawberries and green beans.
"At Pico, we have programmes for all our crops and don't have many columes left to meet increased demand from Russia," says the Egyptian exporter' business development director, Heike Hagenguth. "Last year, when Russia banned imports of EU produce, Egypt quickly stepped up and said that we could fill the gap. In reality, not very much has happened."
In addition, she said, Russian contracts remain tough and include a lot of conditions that are unfavourable for Egyptian exporters. "Credit insurance is also hard to obtain for Russian companies," added Hagenguth, "while prices remain an issue."
Relations between Russia and Turkey have worsened since Isis's incursion into Syria, with Russia accusing Turkey of supporting the fighters through oil purchases. Adding further intrigue is Turkey's longstanding interest in joining the EU, coupled with the EU's need for Turkish assistance in stemming the flow of refugees from Syria.