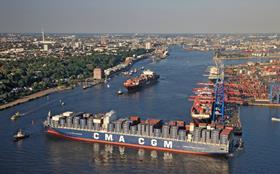 Shipping companies and ports working Russian routes will be severely affected by the contraction in the Russian economy in 2015 according to JOC. Russian finance minister Anton Siluanov announced recently that the economy could shrink by 4 per cent this year if oil prices remain at current levels.
Shares in Russia's largest port company, Global Ports, fell by 81 per cent in 2014, wiping US$776m off its market value. AP Møller-Mærsk, which acquired a 37.5 per cent stake in Global Ports in 2012 through its subsidiary APM Terminals, said it would continue to operate as planned in the country in spite of the downturn, pointing out that Russia accounts for just 2-3 per cent of its total revenue.
The Port of Hamburg is also likely to struggle in the coming months as Russia is its second-largest trading partner. JOC reports that traffic in the first nine months of the year fell by 5.7 per cent to 504,000 TEUs and is expected to decrease even more sharply in the final quarter and through 2015.The port's largest container handler, HHLA, has reported a significant fall in Russian trade over recent weeks, while traffic at its terminal in Odessa decreased by 30 per cent in the first nine months of 2014 due to the ongoing crisis in Ukraine.