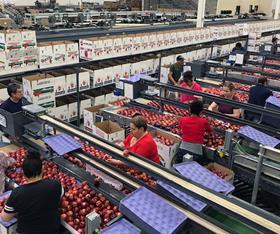 Salix Fruits has carried out the first US apple shipments of the new season, warning that this summer's extreme heat will affect fruit quality and availability.
Sales manager for the Asian market, Javier Orti, said: "We believe that it will be an auspicious season, although production will be affected by the heatwave that impacts on a reduction in the size of fruits and sunburns that affect the harvest".
Acknowledging that it was too early to make an accurate assessment of the hot season, Orti noted that: "The initial projection was to commercialise around 124m (40lb) cartons, but according to the projections of well-known producers, the total will be closer to 109m packed cartons".
Climate change is increasing episodes of extreme temperatures around the world. According to recent reports, this year there have been more than 260 high-temperature records in 26 countries.
The company said the unusually hot weather would cause damage that can be determined during and after harvest, especially after storage.
"Some growers are taking aggressive measures to reduce the amount of damaged fruit, giving the rest of the fruit on the tree more energy to grow, hoping to compensate for the slowdown in growth', Orti explained.
'The markets to which we will start shipping are mainly the Middle East and Central America, as well as the Caribbean, South and Central America, Asia, India, and the Pacific as target destinations."
Salix Fruits exports apples all year round and this is one of the most important fruits in its business.
The company sources them from both the Northern and Southern Hemispheres and the US is a key country in their supply, especially Washington with the Yakima and Wenatchee valleys.
"The Ambrosia and Cosmic Crisp varieties are increasing in popularity and quality, and they will surely follow that path", said Ignacio Vidales, sales manager for Central an South America and Canada at Salix.
"In addition, many new varieties are emerging but as trees are so young, it is necessary to wait a little longer to notice the increase in volume."
Regarding the impact of the Covid-19 pandemic on production and exports, Salix observed that the market was affected by changes in consumption habits.
As a result of the quarantines and isolation forced by the virus, people began to shop online, to receive orders at their doorstep instead of moving to stores.
"Therefore, the increase in orders, mainly from China, overloaded the demand from the ships. The cost of a container traveling from China to Los Angeles has multiplied by seven in the past year due to problems Covid has caused," Vidales explained.
"Since a ship in which an infected person has been found cannot dock, this creates many delays of the unloadings.