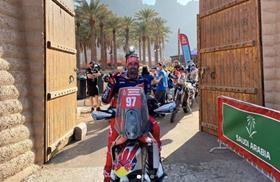 Salix Fruits will participate in the 2022 edition of the Dakar Rally through the support of Matías Notti, an Argentine rider who will race in the motorcycle category of the renowned motor endurance race.
This is the second time that Notti – a fruit industry veteran currently employed by social impact brand Thx! – has competed in the race, which takes place in Saudi Arabia from 2-14 January.
The Dakar is the biggest rally-raid in the world, attracting professional riders and drivers, as well as amateur competitors on motorbikes, quads, cars or trucks.
"This is my second Dakar, and the second time I've been supported by Salix," he said. "It gives me enormous satisfaction to receive their support, both as a driver and because of the friendship that relates me with the company.
"Nowadays there are more and more companies within the fruit growing and agribusiness supporting this kind of events since they have great visibility and diffusion".
Salix Fruits, which has a very large market in the Middle East, said the fact that the Dakar is held in Saudi Arabia is a determining factor in its decision to back Notti.
"As a company, it is very important for us to support a runner like Matias, who is one of the five Argentines who will participate in this category this year," said Salix founder and CEO Juan Gonzalez Pita, who is himself a fan of the competition.
According to Notti, who watched the race on the TV as a child before becoming a spectator and, ultimately, a competitor, the Dakar is the maximum expression of the sport of Motor Rally.
"Not only does it have a lot of history but also prestige in terms of the number and diversity of pilots it gathers," he said.
Notti said his aim for this race will be "to arrive each day to be able to start the next one. It is one of the toughest tests in the world, and therefore expectations must be regulated. "We cover almost 1,000km per day, therefore reaching the end is already an achievement, regardless of the position."