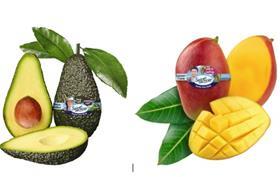 SanLucar is to expand its exotic fruit line with the introduction of mangoes and avocados. The company has partnered with Swiss tropicals specialist Satori to supply naturally ripened mangoes and avocados, initially to the German and Austrian market before extending the programme to other countries.
"SanLucar's exotics, such as pineapple or banana, have an excellent reputation in our traditional markets. Now it's the time for mango and avocado, two products highly demanded by consumers who look for different tastes and who care more and more for their health and well-being," said Marianela Rodríguez, the company's exotic fruit expert.
SanLucar said that the strategic alliance would allow both companies to launch a unique project using their combined strengths: namely their know-how in the production and distribution of premium quality fruits, experience in the selection and development of the best varieties, as well as their powerful corporate structures.
"After initial tests in supermarkets, the satisfactory results for both the end consumer and the retailer already confirm the success of the project," Rodríguez continued.
"Demand has increased rapidly. Thanks to this long-term collaboration with Satori, we are breaking new ground with our mangoes and avocados. The exotic fruits are available throughout the year with an exceptional taste and premium quality."
SanLucar said its decision to focus on naturally ripened fruit was in line with its corporate philosophy, 'Taste in harmony with people and nature', which offers a fresh product that fully respects the fruit's maturing time without accelerating its natural process.
The company also announced that it was developing a new type of packaging that would make it easier for the end consumer to identify the ideal consistency of its avocados.