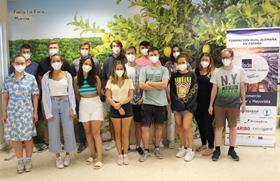 SanLucar has recruited four students from the first ever class to graduate in an innovative vocational degree in Wholesale and Foreign Trade Management.
The degree, brought to Spain by SanLucar and the German Business School FEDA Madrid, is a two-year course that combines classes and work experience, with the aim of quickly connecting students with the world of business.
It has attracted a high level of interest among young people due to the high employability rate offered by this training model imported from Germany.
Having done their internships at SanLucar, the four graduates are now employed at the company's headquarters in Valencia, occupying different positions in the departments of Human Resources, Logistics, Sales and Purchasing.
'We could not be more satisfied with the outcome of the first edition of our Dual Training programme," said Mandy Zwahlen, sales training manager at SanLucar.
"On the one side, it is certainly a great springboard for young people who want to enter the labour market as soon as possible, on the other hand, companies such as SanLucar, taking on young apprentices as trainees, have the opportunity to create their pool of skilled professionals in key areas of the daily operations."
Fourteen young people have enrolled for the latest course, at the end of which they will receive a qualification, certified by the German Chamber of Commerce for Spain, AHK.
Students on the course receive 35 per cent of theoretical classes, combined with 65 per cent of practical work experience in companies.
The theory classes are held at the SanLucar offices and are certified by the German Business School FEDA Madrid. For the practical part of the training, a total of seven companies are participating this year: SanLucar, Edeka, Primafrio, Transfesa, Clasol, Azul y Rojo and Tedi.