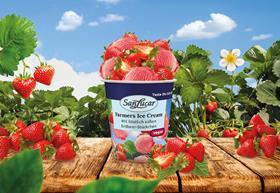 SanLucar has launched Farmers Ice Cream, a new range of plant-based ice creams made with seasonal fruit for the Austrian market.
The vegan, preservative-free line comes in five flavours: strawberry, pomegranate, hazelnut, raspberry and mango.
It will be available in Billa and Billa Plus stores from the second half of March, with plans to add new markets and flavours in the coming months.
SanLucar said the plant-based ice cream is made with only the best ingredients, including carefully selected, sun-ripened seasonal fruits.
The range contains no preservatives, flavour enhancers or colourants and also has a higher fruit content than conventional ice cream.
'Our customers will love this ice cream. It is fruity, especially creamy and very aromatic,' said Alexander Thaller, CEO of SanLucar Austria.
'At SanLucar, we never stand still and are always developing new products that excite people, such as our smoothies, natural juices, fresh-cut fruit, or now our new line of Farmers Ice Cream. A product we can really be proud of!"