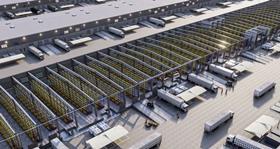 Semmaris, which manages Rungis International Market in Paris, has announced the signing of a partnership agreement with GAG Ghassan Aboud Group and KIZAD Abu Dhabi Port Authorities, with a view to supporting the creation of a future agro-logistics hub in Abu Dhabi, UAE.
This public-private project is reportedly focused on food storage and the rollout of logistical and digital capacity across the region, including the UAE, Bahrain, Qatar, Kuwait and Oman.
The signing and launch of the project took place in the KIZAD logistics zone, between Abu Dhabi and Dubai, with project leaders and Emirati authorities present.
"The expertise of Semmaris has enabled Rungis International Market to become a French and international flagship for agro-logistics," said Stéphane Layani, president of Rungis. "Abu Dhabi is emblematic of our international development strategy to create a network of efficient and connected markets because it is a hub for new international trade routes.
"The country benefits from infrastructure and an economic and diplomatic environment that is favourable to the development of this project. This partnership is perfectly in line with the announcements made during the visit of President Emmanuel Macron at the end of 2021 and constitutes a new example of cooperation between France and the Emirate of Abu Dhabi."