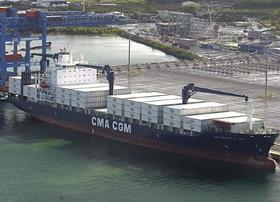 CMA CGM and Maersk Line have announced a number of enhancements to their North Coast Express (NCX) and Brazilian Express (Brasex) services, connecting the east coast of South America to central America and the Caribbean.
The changes, which come into force during the second half of September, will see the two carriers offering a single service operated with four vessels each, with an average net capacity of 2,800 TEUs.
Benefits for customers include increased coverage in the Caribbean by adding direct port calls in Port of Spain, Kingston and Puerto Cabello, and increased service reliability by deploying eight vessels on the service, the groups said in a statement.
The new port rotation will see visits to Buenos Aires, Zarate, Montevideo, Rio Grande, Itajai, Paranagua, Santos, Port of Spain, Cartagena, Manzanillo, Kingston, Puerto Cabello, Point Lisas, Vitoria, Santos and Buenos Aires.
The first sailing begins in Buenos Aires on 20 September, as a continuation of the current service.