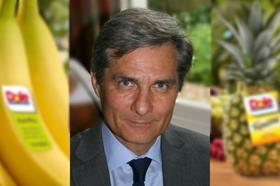 Dole Europe has confirmed the appointment of Sevki Isin as its new general manager in charge of business development.
Isin is already well known at Dole Europe, with whom he has developed close ties through his work as business development director of Zimbabwe-based Rift Valley Corporation, an agro-industrial group with operations in east and southern Africa and a key supplier of bananas to Dole.
Back in February, Dole struck a long-term commercial partnership with Rift Valley subsidiary Matanuska Africa, with Dole assuming all sales operations and becoming the sole distributor of Matanuska's Mozambique banana production for the Middle East, Europe and Africa.
Last July, one of his former colleagues, Randy Breschini, became vice-president of development for South Asia at Dole Asia(which became a entirely separate company when Dole's packaged foods and Asia fresh division were sold to Itochu in 2013).He had previously spent four years as Rift Valley's chief executive.
'Sevki brings 25 years of fruit experience to Dole and is a real asset for our development in Europe," commented Johan Linden, president of Dole Europe.
Isin will reportedly focus on developing sales in the UK, where he will also be based.
"Wherever we operate," Linden added, "our goal remains to intensify our partnership with retailers or distributors and add value to their business."
Isin has previously held various senior management roles at food and beverage companies including Hildon Limited, Winfresh Group and Geest.