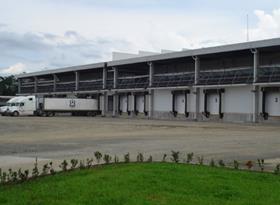 Costa Rica's largest produce distribution warehouse, Sielsa, has integrated three Purfresh Cold Storage systems as a key element of its new state-of-the-art facility, which opened in April this year.
The warehouse houses multiple fresh produce commodities including bananas, pineapples and melons for export, as well as imported fruit such as apples, stonefruit and table grapes.
Purfresh, a US-based provider of clean technologies that purify, protect and preserve food and water, said that its system would help reduce mould and diseases, control ripening and eliminate cross contamination from one company's product to another.
'When we committed to building a new distribution centre, our main objective was to create a leading-edge facility by imploring proven industry-leading solutions that would increase efficiencies, enhance food safety and protect produce quality,' said Sielsa president Richard Loeb. 'By installing Purfresh Cold Storage, equipped with intellipur, it validates our commitment to helping our customers provide the highest quality fresh produce possible to consumers around the world.'
The technology assured an 'unprecedented' level of food safety and quality combining a scalable 'plug and play' ozone-based solution engineered for refrigerated storage environments with Purfresh Intellipur online analytics,' Purfresh noted.
Included in the online system is environmental sensing, web-based monitoring, alerting, data reporting and remote control and diagnostics, Purfresh said, allowing Sielsa to effectively regulate the ripening process and control decay while maintaining overall fruit quality in controlled atmosphere rooms.
Given the competitive landscape and pressure that produce exporters and importers are currently experiencing, it is crucial for warehouse facilities to offer the most advanced technologies and optimal conditions to help deliver the best product to market,' said David Bouchard, general manager for post-harvest and transport solutions for Purfresh. 'It is a pleasure to work with Sielsa, and we are honoured they chose Purfresh Cold Storage for its new modern facility.'
The facility contains over 18,000 cubic metres of refrigerated storage with 12 shipping docks, and is strategically located 10km from Limon where over 95 per cent of Costa Rican produce is imported and exported.
The majority of the produce stored at the facility will be shipped to the US or to Europe.