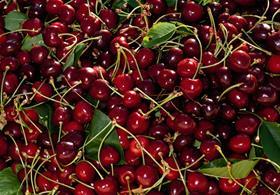 Cool weather has slowed the start to the US Pacific Northwest cherry harvest.
According to industry body Northwest Cherry Growers (NWCG), the sluggish start has provided many growers with time to mitigate the effects of several rain storms that passed across Washington state in recent weeks.
"The action of two high pressure ridges brought an atmospheric river of subtropical moisture over the Northwest for much of the past week," NWCG said in its most recent update, issued 18 June. "Fortunately, cool daytime temperatures followed most of the rain events, which allowed growers the chance to dry their cherries.
"Nonetheless, these events have further slowed the development of the front end of the Northwest crop.However, the high-pressure ridge over the Pacific has since moved ashore, pushing the moisture out of the region and bringing with it clear skies and warmer temperatures. We expect this to bring about an uptick in harvest momentum."
While sizing has been a challenge in some early variety orchards, there appears to be no issues with fruit quality.
"As growers move into more orchards and more varieties, we are seeing some increase in row sizing," the NWCG update said. "Fortunately, even those cherries coming in at smaller sizes are still packing out with exceptional colour, taste and sweetness.
"Optical sorting technology has produced a more uniform consumer pack, which ultimately means those consumers taking home a bag of Northwest cherries will find that dessert quality they're seeking."
A total of 1.9m cartons of Northwest cherries had been shipped as of 18 June. NWCG said the industry was on track to meet its round three forecast of 22.4m cartons for the 2021 season.