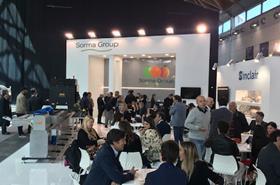 Sorma Group will use next month's Macfrut trade fair in Rimini for the global launch for its new weighing machine, which it claims offers more speed, precision and delicacy than other machines on the market.
"The new machine is the result of the adoption of the best existing technologies and Sorma's non-stop dialogue with the industry," said CEO Andrea Mercadini.
"Our goal is to develop projects that meet concrete needs in the post-harvest segment, where we can now offer a unique service. This machine represents another step forward in technological innovation and the fight against waste."
Sorma said it had gathered input and feedback from its partner packers to design a piece of machinery that meets a hitherto unsatisfied need in terms of low cost, compact size and speed.
The machine will share the stage with other products the group has launched during the last year, which will be exhibited "live" for the first time.
These include HyperVision, the company's proprietary optical sorter machine that delivers precise fruit selection thanks to a cutting-edge, multi-wavelength lighting solution that can analyse up to 15 pieces of fruit per second, compared to an average of 12 for other solutions on the market.
Other solutions on display include packaging machines using 100 per cent FSC certified paper for fruit and vegetables, in the "PaperPillow" and "PaperStandup" variants, in version with or without finger grip.
"All package sizes incorporate a cellulose mesh window which enables air exchange around the product – for a longer shelf life – and lets the consumer check quality when purchasing," the company said.
"The PaperStandup model, in particular, has already been adopted by Esselunga, Coop, Romagnoli, Patfrut, Oranfrizer, Almaverde and Pommes Alliance."