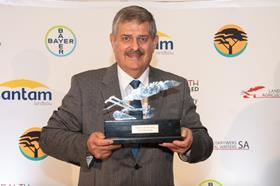 Jan le Roux has been named South Africa's Farmer of the Year by the country's agricultural writers.
He is part of the Le Roux Group, a well-known table grape and stonefruit growers based in the Cape's Berg River region.
Jan le Roux is a business leader in South Africa, who now focuses his attention on his fruit farming operations, having previously been COO of leading retail group Pepkor.
The Le Roux Group developed from the family farm Mooikelder near Paarl, in the Western Cape, where his father Joel le Roux was a pinoeer in table grapes.
Today, the Le Roux Group owns the table grape farms, Broodkraal near Piketberg and Mooikelder, as well as Sandrivier near Paarl, where stonefruit is grown.
Le Roux said that his group was entirely focused on growing products that meet consumer demand, and its scientific approach to fruit farming is aimed at delivering the best quality of fruit.
"We are also offering the best of the new cultivars and we are a licensee of Sun World,' he said. 'We now have extensive plantings of tomorrow's varieties such as Autumn Crisp, as well as the IFG varieties Sweet Celebration, Sweet Globe and Sweet Joy in our product profile."
At Broodkraal, the Le Group Group has now established 552ha under netting. "This is entirely focused on further improving the quality of the grapes we offer,' Le Roux added. 'Our marketing organisation, Le Roux Fruit Exporters, now packs more than 3.2m cartons of fruit, we have strong links with other leading exporters, we offer 6,200 job opportunities and our Workers Trust already holds 32 per cent of the shares in Broodkraal Company.'