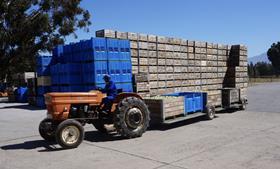 South African deciduous fruit industry body Hortgro says a significant slice of the country's pear export deal is now under serious threat after Russia's invasion of Ukraine prompted a number of shipping lines to suspend services to Russia.
In a statement, Hortgro executive director Anton Rabe revealed the organisation was "keeping a close eye" on the situation in eastern Europe.
"Given the global increases in production input costs, logistic costs and international pressure on shipping, the availability of cargo containers and the impact of Covid-19, the war in Ukraine could not have come at a worse time," he commented. "The industry hopes that diplomacy will prevail."
The suspension of financial services including the payment transfer system Swift, as well as other economic sanctions imposed on Russia, would also present logistical and financial risks for exporters, he noted.
South Africa's deciduous fruit industry exports around 5.5m cartons of fruit to Russia each year, making it one of the country's key overseas fresh produce suppliers.
In particular, exports of pears have increased markedly in recent years and, with a new season now underway, are currently at particular risk.
Russia took just over one-fifth of South Africa's pears last season. "Stonefruit has also started to do well in the Russian market in recent years," Rabe revealed, "with plum exports being 47 per cent higher (year to date) compared to the previous season."
He added: "Hortgro is particularly concerned about a possible rollover effect on markets other than the earmarked fruit for Russia―that has particular specifications for that market―to be absorbed elsewhere."