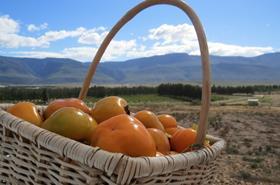 South Africa has concluded another successful local and international Sharon fruit marketing season, but challenges will be faced in the future.
The country's Sharon Fruit growers delivered just short of 3,000 tonnes of fruit during the season, which showed that production had reached stability on which marketing decision could be made.
The bulk of the fruit was exported, but growers enjoyed another good domestic season despite the disruption of the Covid-19 pandemic.
"The season went well in terms of shipments abroad and we were lucky to escape the effect of the third wave of Covid-19 which struck South Africa in June," said Mor International CEO Meir Ben Artzy. 'Locally in South Africa sales were good but the last part of the campaign suffered due to the Covid-19 third wave. We therefore had to extend our season in South Africa.
'Internationally we continue the winter crop coming from Spain. Even though the consumption of persimmons Is dropping during the summer, we have enough customers that like to continue to eat the sweet, delicious fruit which has many health attributes," Ben Artzy continued.

"We sell in the Far East, Middle East, Europe, Canada and Russia. We see now more concentration in selling to supermarket chains as the wholesale markets are playing less important role especially due to the Covid-19 pandemic."

While there is confidence that there will be continued demand for Sharon Fruit in international and local markets, there is some concern about the supply-side,' he explained.
"I am more worried about the supply side and the effect of the changing weather patterns on that,' said Ben Artzy. 'It creates huge problems to the supply chain and to commitments we make to our customers when climatic conditions affect our business. The effect of the coronavirus is making it worse."
The Sharon fruit business was established in South Africa more than 25 years ago as an alternative for Northern Hemisphere supply to lengthen the marketing season.
After initial fast growth in production with Sharon fruit being planted over a very wide and diverse area, the industry has settled down with production now concentrated in the most ideal climatic regions.
A major part of the development of the industry in South Africa was the introduction of the fruit to local consumers.
The informal trading sector has taken to this exotic new product, and the fruit is now distributed over a vast region and to countries to the north of South Africa.