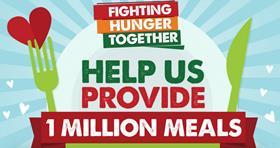 A successful fundraising initiative driven by South African retailer Food Lover's Market, in conjunction with leading exporters and suppliers, will be conducted again this year.
Food Lover's Market has launched the fifth consecutive Hunger Month campaign in partnership with Tru-Cape Fruit Marketing, as along with companies such as Simpl Juice, Westfalia avocados, Crest Shelf potatoes and onions, and ZZ2 tomatoes.
The month-long in-store campaign is aimed at encouraging consumers to contribute a meal to FoodForward SA by purchasing partner products in any Food Lover's Market nationwide.
The much-needed contributions will go directly to feeding the vulnerable and bring awareness to the challenges poor South Africans face.
"We hit our target of feeding one million South Africans in 2020,' said Kate Marais, CSI manager for Food Lover's Market. 'We would love to meet and exceed that total this year. With 30m food-insecure South Africans, of which 14m go to bed hungry every day, it's easy to understand that hunger and food insecurity is a very serious issue in our country."
It is estimated that 70 per cent of households in South Africa's informal settlements are in the unfortunate position that they have to skip meals because they can't afford to buy the food they need to survive.
Typical diets are based mainly on starches such as maize, rice, and bread with little protein or nutritious fruit and vegetables – leading to high malnutrition rates.
This, in turn, leads to 27 per cent of South African children being stunted, which is indicated by a low height in relation to age. This relates to children under the age of five.
"Through our partnership with hunger-relief organisation, FoodForward SA, whose main focus is reducing hunger in South Africa by safely and cost-effectively securing quality food for those who need it, we drive awareness and do extensive fund-raising during Hunger Month,' Marais continued. 'However, this is part of our ongoing year-round support of this and other organisations – we are constantly seeking ways to address the terrible scourge of hunger in South African communities."
By partnering with FoodForward SA, the largest food recovery organisation in South Africa, Food Lover's Market and the Hunger Month partners hope to reach and exceed 1m meals through its easy 'contribute a meal' mechanism.
Any of the partner products, purchased between 1 May and 28 May 2021, will contribute the required R0.85 needed to provide one meal to a hungry person through FoodForward SA.
Shoppers can show their support by purchasing a range of products in any Food Lover's Market stores, including Tru-Cape apples and pears, ZZ2 tomatoes and Westfalia avocados.
"We are very proud to be part of the fifth consecutive Hunger Month campaign,' said Andy du Plessis, managing director of Food Forward SA. 'The initiative not only provides us with critical support to provide over one million meals to half-a-million vulnerable beneficiaries across the country, it provides Food Lover's Market customers an opportunity to play their part in helping to address food insecurity in a very practical way."
Tru-Cape fruit marketing managing director, Roelf Pienaar, said that while Tru-Cape valued all partnerships it was especially appreciative of collaborations where the quality of life of the most vulnerable people is improved in the process.
"As growers of food we are acutely aware of the role we play in providing healthy food for South Africans and for people in 105 countries around the world," he added.