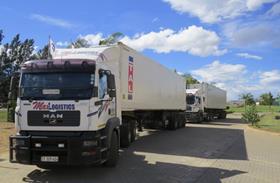 It is unlikely that damaging legislation governing transportation of hi-cube containers in South Africa will come into effect before mid-2021.
Independent sources in the South African fruit industry have said that a new law regulating the transportation of hi-cube containers on South Africa roads will be postponed yet again.

It is now unlikely that the new law – which has been threatening the industry since 2012 – will be introduced before mid-2021, if it is introduced at all.
An announcement is expected in this regard soon. The fruit industries have warned that the new law, in its present form, will cause serious disruption to the export programme and may even bring exports to a halt.
The South African Minister of Transport last year agreed not to enforce regulation 224(b) for a period of 12 months to 1 January 2020. Within this time the Department of Transport would have evaluated submissions from the fresh produce export industries over the impact that enforcing regulation 224(b) would have on the export programme and other movement of containers in South Africa.
The new law only permits the transport of cargo on goods vehicles to a maximum height of 4.3m on South African roads. The height of high cube containers, which have been transported on South African roads without any problems for years, is slightly higher than 4.3m.
It has now emerged that the government has not progressed its evaluation and review at all and needs more time to do so. Sources say that the Transport of Department will have no choice but to kick the matter down the road again.
Presently hi-cube containers, when transported on a standard 1.6 m deck height trailer result in an overall height of +/- 4.5 m, 20cm over the legislated limit.
There are not nearly enough container trailers of the lower height required available in South Africa to legally transport the hi-cube containers on South Africa's roads.
It is hoped that once the investigations are completed the government will see the light and realise that the present way of transporting hi-cube containers does not cause any problems or any danger to anyone.
Sources in the industry have said the government should rather address other infrastructure problems in the ports and in transportation systems. This will make a meaningful contribution the country's economy and the future development of the produce export industry.