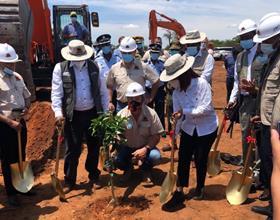 South African citrus and mango producer Blydevallei Citrus is teaming up with global citrus marketers, Afrigold, and local Botswana parties to establish a large citrus growing and exporting group in Botswana.
The venture, known as Selebi Phikwe Citrus (SPC), will be part-owned (30 per cent) by a consortium of Botswanan investors, including Ram Ottapathu and others. Meanwhile, Blydevallei Citrus and Afrigold, who have extensive global citrus and other fresh product production and marketing experience, will own the balance.
It represents the first significant citrus production in Botswana meaning the country will soon join South Africa, Swaziland and Zimbabwe as suppliers from Southern Africa.
Pieter Scholtz, owner of Blydevallei, will be responsible for the development and described the advantages of starting in Selebi Phikwe in the south-eastern part of Botswana,
"We chose Selebi Phikwe in Botswana as the preferred location for our expansion strategy. Botswana is a stable democracy in Southern Africa, it ranks highly in ease of doing business and least corruption," said Scholtz.
"The location will allow early access to markets, and climate conditions and environment should permit low pesticide residue fruit. The water supply secured is from a stable source and of good quality."
Botswana's President, Mokgweetsi Eric Keabetswe Masisi, presided at the launch of the project and the planting of the first trees on 12 December.
The new enterprise will be developed in two phases and is expected to be completed in 2026/27. Afrigold's Marius de Bruyn said the project will ultimately consist of 1,200ha of citrus and a modern, state-of-the-art, citrus packhouse.
"Phase one will be the physical development of the farm, clearing of 1,400ha of bush, creating the required infrastructure, provision of water and electricity to the farm and the planting of some 750,000 citrus trees of various varieties on approximately 850ha of land," said Afrigold's Marius de Bruyn.
"By 2023 a state-of-the-art packhouse will be built to process and pack the fruit for overseas, local and SADEC (Southern African Development Community) markets."
During phase two, which will start in 2023/24, a further 400ha of citrus orchards will be planted, but also with options to diversify into mangoes and avocados should that be possible.
"When completed, we envisage that a total of 1.1m citrus and other fruit trees will have been planted. The total investment in the project over the two phases will be more than P580m (US$53m). When in full production, some 70,000 tonnes of citrus will be produced annually," said de Bruyn.
"The bulk of this, approximately 80 per cent, will be exported to Northern Hemisphere markets such as the US, Canada, UK, Europe, Middle East, Asia, China and Japan."
The balance of fruit will be offered to the Botswana market, and other Southern African community countries, while a small portion will be processed.
The project will reach full maturity over a seven to eight year period and when in full production, SPC will employ approximately 1500 people, including seasonal workers. This is expected to significantly contribute to the local economy and add around €45m in foreign currency to Botswana's economy.
"Botswana will also no longer have to import citrus fruit and it is especially important for the Selebi Phikwe region." De Bruyn added.
De Bruyn said SPC had secured the services of the Citrus Growers Association of Southern African (CGA) to assist the government of Botswana with the implementation of government to government trade protocols.
Additionally, the CGA and its affiliate the Citrus Research Institute (CRI) are already providing support to authorities in Zimbabwe and Eswatini, formerly known as Swaziland.
The joint effort between SPC, the government of Botswana and the CGA in establishing a comprehensive system of market access requirements is set to pave the way for other Botswana citrus growers to export their products.
Most of the fruit from Botswana is expected to pass through South African ports, en route to Northern Hemisphere markets.