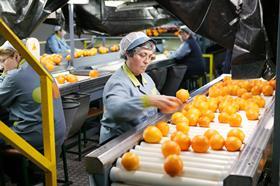 Spanish fruit and vegetable producers have reacted with dismay to President Trump's decision to impose additional 25 cent tariffs on a number of European agricultural imports.
The measure, announced on Wednesday, is due to come into effect on 18 October and will affect citrus, peaches and pears, as well as olives, olive oil, wine, ham and cheese amongst other products.
Spain exports around €2bn of agricultural products a year to the US, and it is estimated that more than half of this will be affected by Trump's move.
"It is undoubtedly a strong blow that will make exports of some products unfeasible," said Francisco Gil of agricultural organisation Coag. "We remain hopeful, but it will hurt."
Clementines will be one of the worst affected products in the citrus category. Once a booming trade, exports have dwindled in recent years due to rising competition from Morocco and
"It will be very difficult for Spanish clementines to compete if they are subjected to a 25 per cent tariff," said Ignacio Juárez of Anecoop. "Spain exported 9,000 tonnes of clementines to the US last year, while a decade ago shipments to this market exceeded 50,000 tonnes."
José Antonio García of Ailimpo said the tariffs would stifle Spain's growth potential in lemons.
"Last year about 7,000 tonnes of lemons were exported from Spain to the US with a value of €7.8m, represents approximately 1 per cent of our total export volume worldwide, so the impact will be limited if we look at the issue from a global point of view," he told Fruitnet.
"But it is important to emphasise that it is a market with growth potential. We estimate that we could reach an export volume of 20-25,000 tonnes in the medium term, so a 25 per cent tariff would be a major obstacle to achieving this goal."
Carla Vercher of Bollo International described the move as "a misfortune for the citrus sector, which will be very negative in both micro- and macroeconomic terms".
The Association of Fruit and Vegetable Producer Organisations of Almería (Coexphal) said a trade war benefited no one.
Manager Luis Miguel Fernández noted that although the region's producers are not affected by Trump's move, there were rumours that the World Trade Organization is considering a new application from the US to extend the tariffs to other products that Almería produces, such as greenhouse vegetables.
"Although the quantity that we send to the North American market is still small, volumes are growing every year," he said.