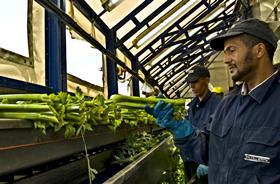 Spanish fruit and vegetable exports to countries outside the EU increased by 52 per cent to 43,123 tonnes in August compared to the year-earlier period, according to figures from the General Directorate of Customs. In value terms shipments rose by 13 per cent to €35.13m.
The biggest increases were in shipments to Algeria (up 145 per cent to 7,221 tonnes); Brazil (up 69 per cent to 15,395 tonnes), UAE (up 62 per cent to 4,987 tonnes) and Saudi Arabia (up 17 per cent to 2,320 tonnes). Exports to South Africa rose by 6 per cent to 1,316 tonnes.
However, overall exports to non-EU countries accounted for just 7 per cent of Spain's export total and the rise is not enough to make up for losses caused by the Russian ban.