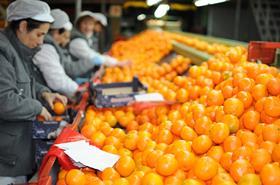 Spanish exporters are predicting a growth in exports to India and Singapore with recent developments set to facilitate more trade.
A new Free Trade Agreement (FTA) between Spain and Singapore will come into force on 30 November while India has removed fumigation requirements for Spanish fruits.
Speaking at the World Fresh Forum at Fruit Attraction 2019, Amit Gidwani, managing director of Indian importer GT Fruitech, said although Spanish fruits account for less than 1 per cent of India's fruit imports, there is room for growth.
"Spanish fruits previously had to be fumigated with methyl bromide, which reduces shelf-life, but with the removal of the requirement weexpect to see a surge of fruit imports from Spain," Gidwani said.
In particular, Gidwani predictedvolumes of Spanish plums to India will grow significantlyin the near future, while imports of Spanish apples, pears and Red Globe table grapes are also likely to increase.
However, he cautioned that exporters need to research the market thoroughly before committing to increased shipments.
"India is a land of immense opportunity with a huge population and now is the right time for Spanish exporters to enter the Indian market, but they need to understand what we want and modify themselves accordingly to create a space," Gidwani said.
"This is the time, but they need to react fast because other countries are already reacting."
Unlike India, Spain already enjoys virtually restriction-free access to Singapore, with the focus principally on premium-quality blueberries, citrus, and apples and pears.
Rey Ng, from Singapore-based fruit marketer Benelux Flowers & Food, said the new FTA could provide a further boost to Spain's premium fruit exporters.
"Around 80 per cent of the demand in Singapore is for Class 1 and premium fruits, so the focus is on quality," Ng said.
"But there are lots of opportunities in Singapore, especially for citrus and stone fruit which are more suited for the 28 to 30 day transit time."