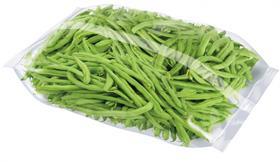 Israel-based packaging specialist StePac has developed lean modified atmosphere bulk packaging (MAP) for fresh green beans, as it targets food waste in the US foodservice supply chain.
The company's advanced solution, under brand name Xtend, preserves the quality, crispness and colour of fresh green beans while maintaining the flavour, and will be on show at Fruit Logistica in Berlin.
Green beans are grown in South Florida and Tennessee, with the peak of the season stretching from November to May, and a large percentage is packed and shipped to the foodservice sector.
The beans have a short shelf-life of 8-12 days, with dehydration causing the pods to shrivel from weight loss. Standard plastic packaging has been used to reduce such waste, but excess moisture exacerbates decay and russetting.
StePac's MAP films have the ideal water vapour transmission rate (WVTR) to eliminate excess moisture, while also preserving crispness, colour and preventing dehydration.
"Food waste in the foodservice sector is a major challenge, affecting the entire global food value chain," said Gary Ward, StePac's business development manager. "Our technology offers a solution for helping curb that waste and enhancing the quality of the produce reaching the kitchens. It also isn't limited to green beans but extends to a range of other vegetables, such as peas, carrots, broccoli and Brussels sprouts."
StePac's packaging solutions can increase the shelf-life of green beans and other vegetables by 50-100 per cent, according to the company. In addition to Xtend carton liners, its Xflow films, with their patented sealing layer, are well suited to automated packaging, such as vertical form-fill and seal (VFFS) packing. This enables the packaging of green beans and other vegetables to meet the demands of high turnover facilities and is gaining momentum within facilities in parts of the US, particularly Florida.
"The new Xflow packaging supports high-speed, high-throughput automated packaging lines for fresh vegetables; supports distributors and growers; and better meets the needs of hotels, restaurants, hospitals, and other institutions across the US," said Ward. "Foodservice sites can receive enhanced quality produce while enjoying the benefits of reduced labour costs."