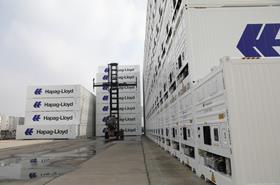 Shipping giant Hapag-Lloyd has announced growth in earning before interest and taxation (EBIT) for the opening half of 2020, despite the impact of the coronavirus crisis.
The group revealed that its EBIT came in at US$563m for the six-month period, up from US$440m in the first half of 2019, while EBITDA rose to US$1.29bn.
Revenues stood at approximately US$7bn, less than 1 per cent below the prior-year level, primarily be attributed to the fact that transport volumes decreased by approximately 4 per cent to roughly 5.8m TEU.
"After the year got off to a decent start, transport volumes significantly declined in the second quarter as a result of the Covid-19 pandemic,' said Rolf Habben Jansen, chief executive of Hapag-Lloyd. 'We benefitted from the sudden drop in bunker prices, adjusted capacity to lower demand and took additional cost-cutting measures as part of our Performance Safeguarding Program. On the whole, we have a good first half year behind us despite the coronavirus crisis.'
Looking ahead, Hapag-Lloyd said that its results forecast remained unchanged.
For the current financial year, the group expects an EBITDA of €1.7bn to €2.2bn and an EBIT of €0.5bn to €1bn.
'Given the COVID-19 pandemic and the economic repercussions it has had in many parts of the world, the forecast will remain subject to considerable uncertainty.'