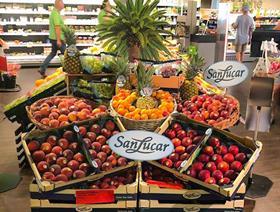 Warm temperatures in Central Europe in recent weeks and the growing interest from consumers in fresh produce amid the coronavirus pandemic have led to a strong start for the European stonefruit campaign, says SanLucar.
"The outlook is very optimistic and we expect to see high and sustained demand throughout the season," said stone fruit product manager Alberto Olivares.
The company, which has a strong presence on the German and Austrian markets, said its innovative slider for apricots, nectarines or flat peaches is becoming increasingly popular with consumes, with sales doubling this season.
SanLucar's premium stonefruit is grown in Spain, Italy and Turkey, allowing the company to supply the market from April through to September.
With Covid-19 still looming over Europe, the company praised the "exceptional application of measures by growers, both in the field and in the warehouses, to ensure the health and safety of their workers as well as the quality of the fruit".
'The whole agricultural sector is aware of the essential activity we perform and therefore no efforts have been spared to continue responding to market demand, even under such exceptional circumstances as the present', said Olivares.