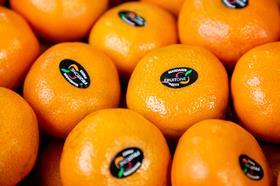 The growing popularity of easy peelers is fuelling the expansion of one of South Africa's leading citrus suppliers. FruitOne currently produces over 60,000 tonnes of citrus from its 1,800ha of farms in Letsitele and Hoedspruit in Limpopo province and expects volumes to rise significantly in the coming years, driven mainly by new plantings of Tango.
CEO John Boyes, whose father Dennis founded the company in the 1960s, says his vision is to grow its farming base in South Africa, together with its community partners, and to expand into new commodities and markets.
"Citrus has been in good demand during the coronavirus pandemic and we've definitely seen a huge increase in easy-peeler consumption, particularly in the premium mandarin segment," he tells Fruitnet.
"FruitOne has been planting the seedless Tango variety for several years and is one of the largest producers of this variety in South Africa. This will position us nicely to supply top-quality Tango to our global customers.
Beyond Tango, the company's lemon, orange and grapefruit output is also set to grow significantly, while most recently it has branched out into macadamia nuts.
As a vertically integrated company, FruitOne operates a commercial sales office in Stellenbosch handling all exports, as well as two fully accredited nurseries, a plant protection and fertiliser company, and its European sales division in Rotterdam, FruitOne-Europe, which manages its regional retail, wholesale and food service programmes.
Europe, along with the Middle East and Asia, are where the bulk of the company's exports end up, although it also has a presence in other sales regions, including Canada, Russia and the UK.
"As a group we are constantly looking at opportunities to improve efficiencies and production excellence," Boyes continues. "Consumers are looking for ethically sustainable produce that has great quality and taste. Our production and packing practices reflect this, as we drive for low residue products while not compromising quality or shelf-life.
"This forms part of our environmental and social responsibility drive. We are also continuously in the process of achieving higher standards of certification, according to the latest market demands and following our business policies."
Like most South African exporters, FruitOne has faced major logistical disruption this past season due to delayed vessels and the ongoing container shortage, a situation exacerbated by last summer's cyber attack on Transnet. Fortunately, the company had its own contingency plan in place which helped it to manage the disruption by making use of multiple coldstorage facilities across different cities.
With the country's citrus output growing rapidly, Boyes believes it is imperative that these matters get resolved to ensure smooth port operations in the future.
"We need to work together if we are to make a success of this," he says. "Ultimately what South Africa requires is reinvestment in infrastructure by government, better maintenance and an improvement in operational efficiencies. We are forecasting significant growth in the industry and need better infrastructure to handle the volume."
For now though, the company will remain focused on expansion, diversification, improving operational efficiency and sustainability. "We want to expand our commercial channels, without compromising our product and service excellence," says Boyes.