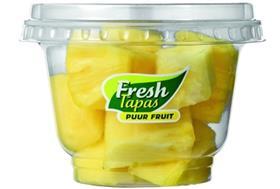 Netherlands-based importer The Greenery/Hagé International has revealed it is seeking to establish a new supplier partnership in Costa Rica as it seeks to extend its pineapple business in Europe on the back of rising demand.
Thanks to the popularity of MD2, fresh pineapples are becoming an increasingly common addition to supermarket trolleys across Europe, and in the past six years alone annual sales have risen from 400,000 tonnes to 900,000 tonnes.
While Panama remains The Greenery's main source of pineapples, Costa Rica is now its second most important provider of the fruit. In both cases, the marketer works with a small group of growers with which it has built up long-lasting relationships over the years.
"As our business is still expanding we're currently looking for an additional supplier in Costa Rica," confirmed Tim Willaert, corporate communications manager at The Greenery, in an interview with Eurofruit Magazine.
However, the company told Eurofruit Magazine it would continue to be extremely selective in terms of new supplier development: "We do, however, have strict demands and policies on food safety and sustainability – we only work with a select few,' Mr Willaert added.
The European pineapple market has proven to be surprisingly resilient to the economic downturn, according to some of Europe's biggest importers, who report that although prices fell slightly, sales have held up well during the course of 2009.

More information about the European pineapple market, including comment from leading importers Hispafruit, Fyffes, Dole and The Greenery/Hagé International, will be published in the February issue of Eurofruit Magazine
Click here for details of how to subscribe to Eurofruit Magazine