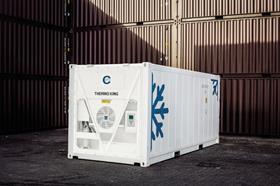 Thermo King has introduced its new Container Fresh & Frozen (CFF) refrigeration solutions for containers.
According to Thermo King, the CFF reefers feature improved temperature and humidity control, lower total cost of ownership and comes with industry-standard R-134A low global warming potential (GWP) refrigerant.
"With CFF, Thermo King brings in decades of container refrigeration knowledge acquired from the intermodal use of reefer units on rough roads and even rougher seas," said Peter Hansen, product leader at Thermo King marine, rail and bus.
"Since the 1950s Thermo King has been raising the bar for reefer performances, designing solutions that last longer and better protect our customers' high value cargo,' he continued. 'The CFF makes use of our proven technology and combines it with the latest in smart, connected, and customisable cold-chain innovations to set new standards in operating efficiency."
New features
The new Thermo King CFF unit features an advanced temperature management control system that delivers precise temperature control of +/- 0.25 degrees Celsius in chilled mode and +/- 1 degrees Celsius in frozen mode.
The CFF offers fast pull-down and can quickly reach specific set-points to increase the storage life of shipped goods, Thermo King confirmed.
Additional sustainability benefits and reduction in operating cost come from the ability to optimise the power consumption mode to consume less energy and activate a wider temperature spread without compromising the cargo.

'The best-in-class temperature control is ensured by the proven Thermo King MP-4000 controller featuring advanced control algorithms, a faster processor and the ultraprecise PT1000 control sensors,' the group noted. 'The controller brings in the intelligence and seamless connectivity to the CFF thanks to its compatibility with a wide range of telematics solutions for both one-way and two-way communication. A built-in Remote Monitoring Module also enables the controller to interface with customers' vessel monitoring systems.'

The CFF reefer units include further unique features such as the Automated Smart PreTrip Inspection performance audits, which allows the MP-4000 controller to perform full inspections during reefer operation – in any location, empty or loaded.
Meanwhile, Advanced Fresh Air Management protects fresh produce from detrimental atmospheric conditions, and energy data logging offers insight into real-life power consumption and better decisions about power usage.
The controller's data logger also records temperatures, humidity, air-exchange, CO2/O2, pressures, events and PTI results for each trip.