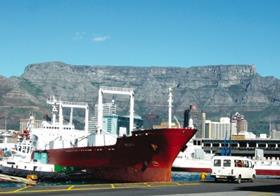 The port of Cape Town has been in the crossfire for some time because of delays that have blighted this year's fruit export season.
Now it has reacted by saying that things are improving rapidly with its marine crew back on duty and that it is continuing to ramp up operations and reduce shipping backlogs caused by the impact of Covid-19 on the port's human resources.
"By 30 July, volumes had increased, container terminal performance had improved and only one container vessel was at outer anchorage, reduced from nine vessels just two days earlier,' a statement said. 'Transnet Port Terminals (TPT) believes that the backlog of cargo will be cleared by mid-August, after last week's inclement weather delayed progress and shifted the original target of end July."
Mpumi Dweba-Kwetana, Cape Town port manager, said it was encouraging to see that terminal operators now had a better handle on Covid-19 cases. Employees who have been sick and in isolation are returning to work.
"Marine operation human capital has improved - from 60 per cent capacity at the beginning of July due to positive cases of Covid-19 coupled with employees in quarantine, to 100 per cent as of 30 July,' said Dweba-Kwetana. 'All marine pilots have been on duty throughout the month.
'Transnet National Ports Authority (TNPA) has been able to offer a full marine service to move vessels in and out of the port. The full marine fleet available includes two tugs, and a third tug on standby, one workboat, one pilot boat and one launch."

He confirmed that berthing services - which were most affected by the virus spread among employees - were back to normal at the beginning of the month (July) with two berthing gangs in place.
The port authority continues to keep the industry and users informed. "Progress to restore full operations are shared bi-weekly in TNPA and TPT's bi-weekly virtual meetings with all port stakeholders, including private operators, shipping lines, the Department of Economic Development and Tourism (Western Cape), as well as industry bodies,' Dweba-Kwetana continued.
The trucker strike action outside the port had not impacted port operations at the port of Cape Town Container Terminal.
The port handled 17,438 TEUs versus 12,000 TEUs the previous week. Efficiency rates had improved last week with GCH slightly up to 18 from 17 and SWH to 45 moves from 38 moves per hour.
The average waiting time at anchorage for container vessels had been reduced to four days by 28 July and by 30 July there was only one vessel at anchorage and one on the horizon.
"Although operators from Durban returned back to Kwa-Zulu Natal (KZN) on 29 July, the terminal would maintain the six-gang operation due to Cape Town employees being back at work,' he noted. 'Preparations to introduce the seventh gang in time for the reefer season were underway with recruitment and training progressing well."
While the fruit industries welcome any improvement in the port of Cape Town, the apple export season will now be winding down during August and new service levels will not affect the bulk of the season.
Avocado exports have moved past the 70 per cent mark and the industry said that delays have affected the operations so far this season.
"The delays we had affected fruit quality and that is something you do not recover from," said Derek Donkin of Subtrop.
Despite this – and the need to transfer apples to other ports to meet schedules – South African apple and pear exporters are still able to stay on track with forecasts.
However, certain marketing regions have been affected. Donkin said South Africa's avocado export crop was still forecast at around 16.5m cartons.