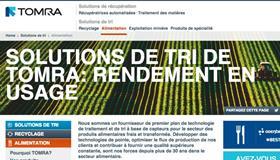 Machine and technology provider Tomra Sorting Food has launched a French version of its website to showcase its range of sorting and peeling solutions to French-speaking countries.
The website has all the features of the English website and has been designed to provide extensive product information to the company's French-speaking customers around the world, the company stated.
Speaking about the launch, Björn Weyts, marketing manager at Tomra Sorting Solutions, commented: "By creating a French version we are opening ourselves up to more nations and regions around the world; not only France but other countries in Europe, Africa, North America and South America. Tomra's customer base continues to grow rapidly, and providing up-to-date information about our sorting and peeling equipment in French allows us to better serve our existing clients, partners and potential new customers in French-speaking countries around the world."
Tomra's website is now available in English, German, Chinese, Japanese, Spanish and French. Other languages will follow in the coming months, the company revealed.