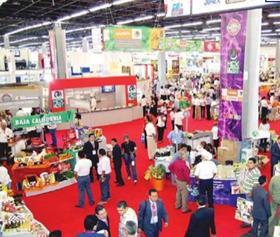 Mexico's largest retail convention and trade show Expo ANTAD is planning another major presence when its gets underway in Guadalajara on 14-16 March.
Organisers hope to attract more than 2,000 exhibitors and over 35,000 visitors from more than 30 countries to the three-day event at the Guadalajara Convention Center.
Within the 40,000m2 exhibition space, Mexico's booming fresh produce industry will showcase its products and services as part of the MexBest pavilion.
In addition, major suppliers and trade associations from North America will have stands, including the Washington Apple Commission, Pear Bureau Northwest, the California Pear Advisory Board, the California Fresh Apricot Council, and the Western United States Agricultural Trade Association, among others.
Exhibitors from other key food-producing nations will also be present at Expo ANTAD 2012, including China, India, South Africa, Brazil, Uruguay and the UK.
For the full story, see the February/March issue of Americafruit Magazine.
To subscribe to Americafruit Magazine, go to www.fruitnet.com/subscribe